About Us
L'Orech Yomim – A Profile of Newsworthy and Breakthrough Initiatives
The hallmark of our organization is fostering consumer self-advocacy and cultural competence in service delivery through state-of-the-art knowledge and integrating religious guidance with professional expertise. For over a decade L'Orech Yomim has been advancing the needs of Orthodox Jewish consumers and those interested in serving them.
1999: Introduced first "Caring for Our Elders" community education seminar program, "Choosing a Nursing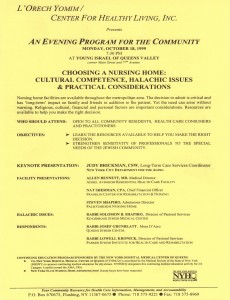 Home: Cultural Competence, Religious Issues, and Practical Considerations."
2000: Hamodia reports "Queens Seminar on Hospice, Home Care Attracts Large Crowd."
2001: Developed Jewish Hospice program to comply with Orthodox tradition for geriatric center. Wrote and obtained project grant.
2002: Introduced program, "Memory Loss, Aging, and Alzheimer's Disease." Jewish Press wrote story, "Panel of Experts Discuss Preserving Memory, Alzheimer's Disease."  Presented "Serving Orthodox Jewish Elders and Their Families: Guidelines for Development of a Hospice Program" at national scientific conference of health professionals.
2003: Published "Mitzvas Kibud Av V'Aim: A Compendium, " a book focusing on issues relating to the adult orthodox population.
2007: Organized and presented seminar on, "Maintaining Safety and Indepedence at Home." Five Towns Jewish Times, Hamodia, and Jewish Press all report the event. Also note, 'Home Depot Joins L'orech Yomim in support of home safety.'
2008: Hamodia observes again that topic "Halachic and Legal Eldercare Seminar Draws Large Crowd." Jewish Week wrote, Symposium on Caring for Elders with Respect," Five Towns Jewish Times wrote, 'Nursing Homes and Home-Care Agency Sponsor Kibud Av Va'eim Program." Also invited and organized community-wide event, "PROMINENT COLUMBIA UNIVERSITY PROFESSOR COMES TO QUEENS: SHARES STUDY ON CAREGIVER NEEDS, END OF LIFE CARE."
2009: Initiated first National Research Study of Orthodox Jewish Caregivers. Yated Ne'Eman reports "A Call to Caregivers." Presented at national scientific conference on topic, "Eldercare and caregiver burden – has the Jewish  community response met the challenge of culture and religious practice?"
2010: Researched and prepared book for publication, "You Are Your Parents' Keeper – Hashkafic and Halachic Insights into Elder Care and Kibbud Av Va'Eim". Met with Vice President Community Services, Agudath Israel of America on his request at suggestion of Associate General Counsel to learn about L'Orech Yomim renowned activity, experience and insights in the area of End-of-Life care, review book manuscript in advance of publication, giving birth to Agudath Israel's Chayim Aruchim project.
2011: Launched Kol HaKavod News Magazine,  An independent news magazine published for the education of individuals, professionals, businesses, and elected officials interested in the needs and concerns of Orthodox Jewish elders, active adults and their families.

2012: John Hopkins Center for Health Disparities Solutions recognized significance of Jewish Orthodox Caregiver Study and featured research findings  in its monthly newsletter. Released You Are Your Parents' Keeper, deemed the complete caregiver's manual for the Orthodox Jewish community with approbations by Rabbi Noach Isaac Oelbaum, Khal Nachlas Yitzchok, Rabbi Herschel Schachter, Rabbi Isaach Elchanan Theological Seminary, Mordechai Biser, Esq., Agudath Israel of America; reviewed by Young Israel Viewpoint Magazine and Yeshiva University Chavrusa Magazine.

2013: Introduced specialized recreational programming to meet the needs of frail seniors and their families practicing Orthodox Jewish tradition; advised senior programs regarding duplicating its content.
2014

 

and Ongoing: Information and Referral:
Assist families regarding service delivery, access to care and financial matters.


– I was told that I reached my maximum allowable visits for therapy after surgery but

I'm not better, do I have any recourse with Medicare? – If I didn't apply originally for prescription Part D benefit can I enroll now? – Do you have an elder care attorney you can recommend? – What is your opinion regarding this hospice program-is it acceptable according to Jewish tradition?

– I am caring for my father who is in fourth stage of Alzheimer's disease and need to speak to a professional, who would you recommend? – Can you research and advised me regarding the suitability of — nursing home for my mother? – Do you have home attendant aides you can recommend-we will pay privately. – My mother-in-law is in a nursing home. We are concerned regarding care management; do you have any suggestions for us? – My mother is in —– Hospital and we are considering transferring her out and there's also the issue with her regarding palliative care and intubation is there a Rabbi you can recommend? – Can you recommend a support group for caregivers? – For widows? – I need to reconstruct my parent's living space so that it is all on the walk-in level. Can you recommend someone who can build a shower for us with the needed safety features? – Are you familiar with the concept of a "pooled trust"? Can you recommend one?
2015 and Ongoing: Public Health Education
Educate and correct misinformation among practitioners, policy makers, and academicians regarding Orthodox Jewish traditions as they relate to care management, compliance and outcomes.  Ongoing need is highlighted by the slide below, presented at a recent workshop attended by L'Orech Yomim discussing factors concerning health care decisions for elderly. This was a prestigious scientific conference attended by 13,000 professionals.

Presented the halachic perspective at conferences and workshops:•Negotiating Information Needs in End-Of-Life Care • Are We Doing Enough in Managing Emotional Stress: Impact on Patient Symptoms At End-Of-Life?  •A Health System's Approach to Improve Care for Advancing Age and Advanced Illness.Shared the the customized advance directive designed by rabbis, Halachic Advance Directive, explain its features, rationale for its need at conferences and workshops.